Maintenance
cut line
This page relates to Puring ultrapure water system replacement of pretreatment filter, multi-media filter back-wash and regeneration, equipment troubleshooting, etc. and make a demonstration and answer.
Replacement pretreatment filter
Puring ultra-pure water system configure 3-channel 10 inches (or 20 inches) pretreatment bottle filter . Filter bottle to install a different filter can be realized in different function. Filter is the consumables, need for regular replacement. Filter replacement cycle by the impact of raw water quality, equipment operation, equipment maintenance status etc. This page will explain the method of filter replacement, filter replacement cycle refer to manual or contact Pruing.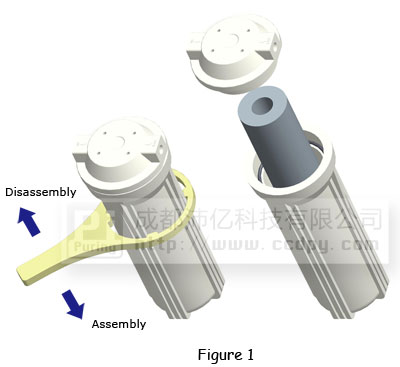 As shown in Figure 1: In the ultrapure water system run-time, close the inlet ball valve, so that equipment alarm and standby to remove the pipeline pressure. Shut down power, with special wrench disassemble filter bottle along the direction of Figure 1. Change filter (change the filter and replace the same type) and then tighten the filter bottle. Open the inlet ball valve, and then open the power supply, equipment that is able to run.
Note:
When replacing filter, must removed the external transparent packaging film.
For the hollow cylindrical filter, when replacing, the locating ring of the filter bottle and cap should be inserted into filter internal.
When replacing, PP filters do not have to consider the direction, AC filter and activity crystal filter should gasket upward into the filter bottle.
Multi-media filter back-wash and regeneration
If the poor quality of raw water, configured Puring multi-media filter as water pre-treatment, in daily maintenance, customers need regular backwash multi-media filter in order to restore its interception capacity. The specific operation in Figure 2 below: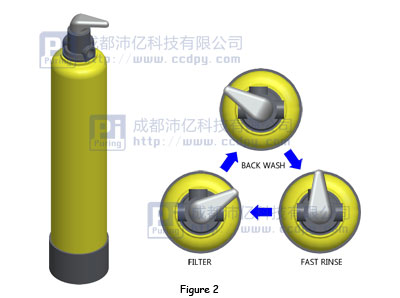 Backwashing steps: Shut down the power switch, turning the handle from 'FILTER' position to 'BACK WASH' position, so that multi-media filters Self-cleaning backwashing for 15 minutes; and then rotate the handle from 'BACK WASH' position to 'FAST RINSE' position, so that multi-media filters self-cleaning washing for 5 minutes; last rotate the handle from 'FAST RINSE' position to 'FILTER' position, puring multi-media filters regeneration complete. Open the power switch, equipment can work properly.
Quick Connector disassembly and assembly
In daily maintenance of ultrapure water system, will inevitably be disassembly and assembly PE Pipe Fittings (for example, when the replacement of consumables). Puring ultrapure water systems are high-quality pipe fittings Quick Connector, disassembly and assembly without professional tools, very convenient. Figure 3 below:
Disassemble pipe fittings:Remove LC-Locking Clip, press the Collet down to the Cap while PE tube can be pulled out.
assemble pipe fittings:Through the Collet,insert PE tube to the Cap (plug in the end), and then the LC-Locking Clip can be locked.