Classic water purification system
cut line
Puring Classic water purification system producing ultrapure water with reverse osmosis and Ion-exchange, directly connected to city water supply, Production of ultrapure water to meet water quality GB laboratory water quality GB6682-2008 Grade 1. Puring Classic water purification system design is simple and powerful system for water purification. Space saving in design with Concise fashion shape. Pretreatment cartridges placed under the table, to save desk space. Puring Classic water purification system is your good partner for laboratory ultrapure water production.
Technical Features
Optimize the process to get the best water quality.
Core components are imported.
Activity crystal filter can be an effective anti-scaling, long service life.
CAD design of the product structure.
The structure of water and circuit separation, more safe and reliable operation.
Concise fashion appearance, did not occupy the extra desk space.
24VDC DC power supply, only a few dozen watts.
Single-chip automatic control equipment for 24-hour standby operation.
Water quality monitoring at a glance via the easy to read electronic display.
Audio visual alarms for low raw water pressure, at the same time automatically entered the standby mode.
Boot and standby automatic washing, effectively extending the service life of membranes.
Product Photo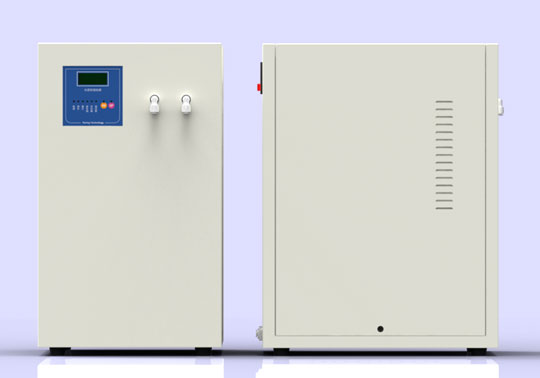 Features
Man-machine interfaceFashion simple man-machine interface, waterproof membrane keypad, the system status indicator light, LED display water quality.
Double the water intakeDouble the water intake design, One can access pure water , another can access ultrapure water.
Ventilation holeVentilation hole at the bottom and both sides of door not only can cooling equipment, but also can ensure that electrical components dry, extended equipment life.
Control circuit boardSingle-chip microcomputer automatic control, outstanding quality and stability. Run, standby, alarm automatic function, customers just need to do is press the button to access ultrapure water.
Spec Sheet
Model
PCR
PCB
PCA
Applications
Rinse containers
AAS atomic absorption
HPLC
Students experiment
IC-Ion Chromatography
AAS atomic absorption
Humidifying machine
Toxin detection
ICP atomic emission
Sterilization pot
Immunodiagnostics
IC-Ion Chromatography
Feed to ultrapure System
Plant cell culture
Bio-engineering
Other equipment ...
Microelectronics clean ...
Electrophoresis ...
Pure Water Specifications
Conductivity

[3]

2~10μs/cm
Ultrapure Water Specifications
Inorganics

[3]

No ultrapure water
15~18.2MΩ.cm
18.2MΩ.cm
TOC
10~20ppb
5~10ppb
Bacteria
<1CFU/ml

[1]

<1CFU/ml

[1]

Bacterial endotoxin
<0.001EU/ml

[2]

<0.001EU/ml

[2]

Other specifications
Make up rate

[3]

8 or 12 l/hr
Flowrate (max)
1.5 l/min
Feedwater TDS
< 200ppm
Feedwater Pressure
0.15~0.5Mpa
Storage Reservoirs
12 Liter
Pretreatment Cartridge
10-inch 3-channel external (Crystal scale inhibitor)
Mains Input
220VAC/50Hz
Power consumption
50VA
Dimensions (W×H×D)
290×493×398mm
Weight
18Kg
20Kg
20Kg
Notes:
[1] With UV Sterilizer.
[2] With Ultrafiltration Pyrogen Removal.
[3] Test at 25℃.
Above-mentioned configuration as the standard configuration, if non-standard can contact us.
Resources