Distillate water purification system
cut line
Puring Distillate water purification system feed water is distilled water or pure water, It can enhance the water quality of pure water to ultrapure water. As the feed water is pure water, Distillate water purification system have no Pretreatment Cartridge and pure water tanks, Smaller devices does not occupy the extra desktop space of customers. If you already have distilled water or pure water, but it can not meet your strict requirements on water quality, that Puring Distillate water purification system will be your best choice.
Technical Features
Optimize the process to get the best water quality.
Core components are imported.
CAD design of the product structure.
Concise fashion appearance, did not occupy the extra desk space.
24VDC DC power supply, only a few dozen watts.
Single-chip automatic control equipment for 24-hour standby operation.
Water quality monitoring at a glance via the easy to read electronic display.
Product Photo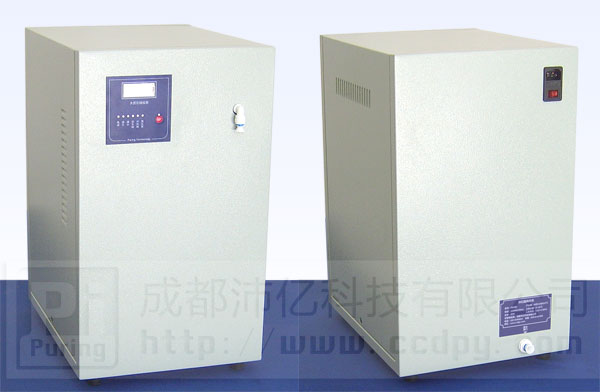 Spec Sheet
Model
PDB
PDA
Applications
AAS
HPLC
IC-Ion Chromatography
AAS atomic absorption
Toxin detection
ICP atomic emission
Immunodiagnostics
IC-Ion Chromatography
Plant cell culture
Bio-engineering
Microelectronics clean water ...
Electrophoresis, gel analysis
Ultrapure Water Specifications
Inorganics

[3]

15~18.2M.cm
18.2M.cm
TOC
10~20ppb
5~10ppb
Bacteria
<1 CFU/ml

[1]

<1 CFU/ml

[1]

Bacterial endotoxin
<0.001EU/ml

[2]

<0.001EU/ml

[2]

Other specifications
Make up rate
90 l/hr
Flowrate (max)
1.5 l/min
Feedwater
2~10s/cm pure water
Feedwater Pressure
0.15~0.5Mpa
Mains Input
220VAC/50Hz
Power consumption
40VA
Dimensions (W×H×D)
290×493×398mm
Weight
15Kg
Notes:
[1] With UV Sterilizer.
[2] With Ultrafiltration Pyrogen Removal.
[3] Test at 25℃.
Above-mentioned configuration as the standard configuration, if non-standard can contact us.
Resources